It's almost impossible to select the college you are going to attend without going on a campus visit. While it is easy to research universities online and take virtual tours on their websites, nothing beats the feeling of actually being there, seeing student life, and imagining where you will fit in on the campus. A university may sound like a great idea when you look it up online, but when you visit, you could be overwhelmed by its size (or underwhelmed), off put by faculty you meet with, or realize you do not like the city in which the university is located.
Because we realize the importance of campus visits, the College Readiness team took a Texas road trip last week to scope out some college campuses. We visited Baylor University, Southwestern University, St. Edward's University, and The University of Texas. Some things we looked out for while visiting:
Location
Size and campus aesthetic
What does the university have to offer and how do they highlight that on this tour?
As you're visiting campuses, it's important to realize that the school is trying to advertise itself to you. So how are they doing that? What are they highlighting and drawing your attention to? Are the tour guides excited to talk about their school? The nice thing about these visits is that you don't have to convince anyone of anything—your application is where you get to do that; on a campus visit, all you're doing is trying to decide if the school can convince you to go there. It's a pretty nice place to be.
And now for an overview of our tours!
Baylor University
We arrived at Baylor University on a muggy, cloudy morning that the Baylor Admission Counselor declared beautiful. This optimism was our first introduction to the university, and it never ebbed throughout the two hour, high energy tour where we piled into golf carts to zoom across Baylor's campus. It only takes fifteen minutes to walk from one end of the surprisingly beautiful campus to the other, but our tour guides wanted to hit the highlights while giving us as much information as possible throughout the tour.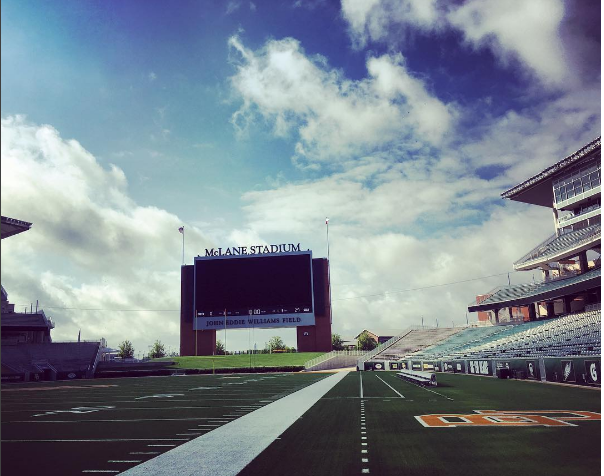 A good portion of Baylor's campus is filled with brand new and innovative buildings, the most notable being the science and business buildings. Baylor highlighted their pre-med and business programs heavily throughout the tour, touting impressive statistics about medical school acceptance (70% of Baylor pre-med students are accepted to medical school) and job placement in the business school (some programs have 100% of students graduating with full time jobs). However, we also learned about the various Baylor traditions, including Homecoming, Sing, and chapel. Though the campus was busy (there was a free farmer's market on Fountain Mall) with seemingly endless numbers of students walking to and from class, we were assured that the student to faculty ratio remains 15 to 1.
Students interested in medical school or business should seriously consider going to Baylor, as they are nationally renowned for these subjects. The city of Waco is a good size, and Fixer Upper and Magnolia Market have jump started the revitalization of downtown Waco where new local businesses and restaurants are constantly opening. Students who want to live in a large, metropolitan area may not like Waco as much. However, with its proximity to Dallas and Austin (it's halfway between them), the city life is easily accessible for a fun weekend.
Southwestern University
After an easy hour drive down I35 South, we arrived in the ever lovely city of Georgetown. Home to Southwestern and a half hour drive from Austin, Georgetown had a small-town charm that I wasn't expecting. The subtle hills, the easy access to campus, and the Town Square all added to this aesthetic. The campus of Southwestern fits right in with the Georgetown vibes. We took a tour around 2 pm on a Thursday, and we saw very few students walking around. It was quiet, and the students studying in the campus-provided hammocks (very cool) were undisturbed by the constant foot traffic that overtakes larger universities in the middle of a school day.
Southwestern advertised its size as one of its greatest assets. The average student to faculty ratio is 12:1, which provides students with the opportunity to have a personal relationship with their professors. Our tour guide assured us that every professor she had knew her name. Additionally, they seem to be putting a new focus on their science department, which allows students to conduct research that larger universities would only allow PhD candidates to attempt. They also have a new science building that has many resources for students to utilize during their research.
Overall, Southwestern is a school that would benefit students who need a smaller, tighter knit environment to thrive. It is also a liberal arts university, so those students interested in that area of study would really enjoy the classes at Southwestern. The campus is walkable, lovely, and the town offers ample activities for students in their downtime.
St. Edward's
Our second day of tours took place in Austin, Texas, the bustling capitol of our great state. However, the campus of St. Edward's feels far removed from the constant traffic, noise, and pedestrians of the city. Located in the Austin hills, the campus of St. Edward's is beautiful. We were particularly partial to the view of the Austin skyline from the steps of the Main Building (building pictured below!).
While the campus is small, it was bustling with life on our morning tour. Students were studying in the library, hanging out Jo's Coffee, and scrambling to get to their classes on time. Our tour took us to the campus rec center where students were finishing their morning workouts, the library (silent with serious study taking place), and around the academic buildings. One of the most impressive features of St. Edward's and what they highlighted the most was their commitment to global learning. They have study abroad programs on every continent except Antarctica, and they have a portal campus in Angers, France. Professors from the university teach classes there every semester. Additionally, 10% of the student body at St. Edward's is made up of international students.
The student who would like St. Edward's is one who likes a smaller campus and class size but wants all of the opportunities afforded to someone living in a large city. Additionally, if a student is interested in international relations or studying abroad, St. Edward's would be a great place to apply.
The University of Texas at Austin     
We ended our tour with one of Cram Crew clients' favorite schools: UT Austin. The enormous campus is located right in the middle of Austin, and it somehow feels like a city within a city. The tour for UT was well organized and efficient, which is impressive considering how much ground there is to cover. In a word, the location of UT is cool. There are shops and restaurants along Guadalupe, it's close to South Congress and downtown, and the city has an incredible music and film community. Austin is a great and growing city, which means there is a lot of traffic (both pedestrian and vehicular), so if that is something that overwhelms you, UT might not be your best option. However, our tour made it clear that the university has a ton to offer its students. From football to finding Mathew McConaughey's picture in the rec center, there will always be something for students to do when they're not studying. The schools within UT are world renowned, and students will be offered abundant resources and opportunities that will help them in their career.
The student to faculty ratio is 18:1, however, so students who like a smaller classroom environment may not thrive at the university. This does depend largely on a student's major; our tour guide told us that in some of his more specialized classes, there can be less than six people. The campus of UT, like the city of Austin, is vibrant and diverse. This is an excellent school for those who like a huge community of very different people coming together for a common purpose.
We highly encourage you to go on campus visits at the schools that you are interested in. If you have any questions for our team about our visit, feel free to contact us! And check out some of our great Instagram photos from the trip!
---
Feeling overwhelmed by the college application process? Cram Crew is here to simplify it for you. Take our four day summer camp, The Crunch, to help you knock out your college resume, essays, and receive expert advice on the process. Sign up today!