College application essays: students dread them, parents worry about them, and college admissions committees hope to read one that stands out. These essays are meant to expand beyond a student's resume, giving them the opportunity to give readers a small insight into their lives. This is intimidating. What part of your life should you highlight? How much detail should you give? How do you stand out?
Before you figure out what to write about, you need to figure out what essay prompt you're going to answer.
There's ApplyTexas, which has three essays.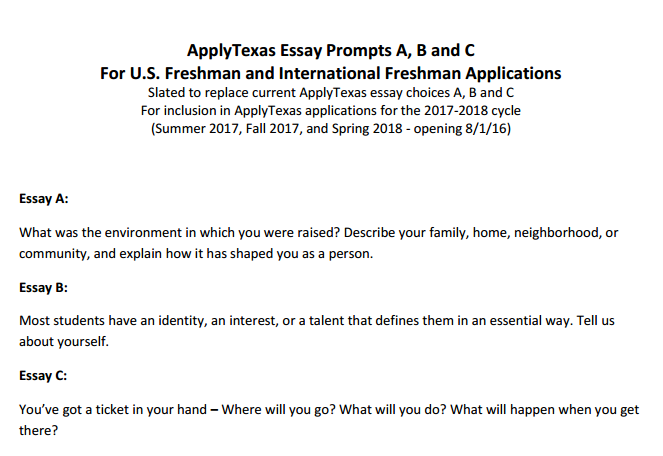 The Common Application, which requires one essay that you choose from these prompts: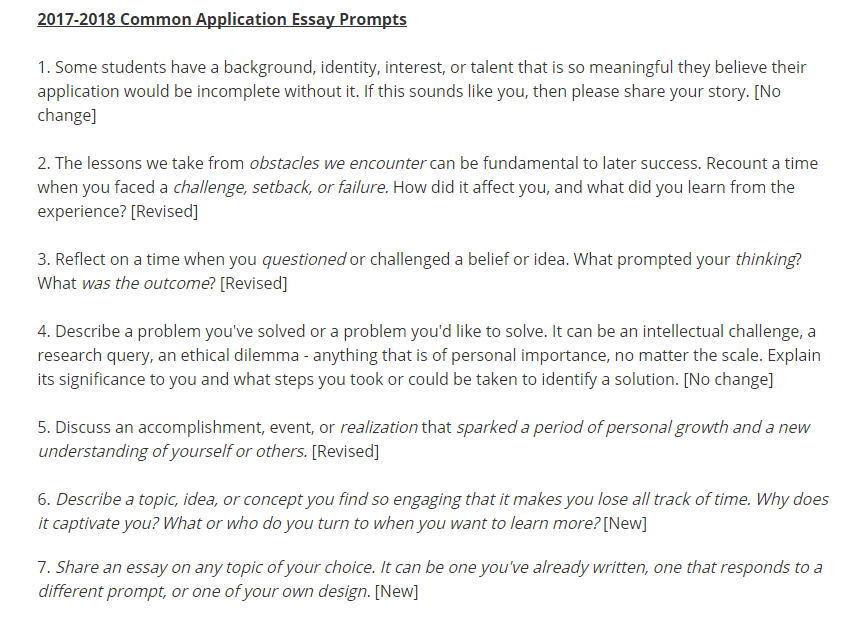 And the Coalition Application.
Once you've chosen your prompt, you have to move on to the daunting stuff: content. To make your essay stand apart, it's important to pick a unique topic, but also to make that topic unique to you. It's likely that many applicants will have a similar background and set of activities that they are involved in as you, but that does not mean your experience will be inherently the same as everyone else's. An essay is just a story—a tiny look into the lives of students, colored with the perspective that only they can bring. The best way to do this is to be as detailed as possible. When you're writing about your family, write about the little things that bring you all together—the holiday traditions, the sounds of everyday life, the tone you all use to talk to one another. This will require you to observe the world in which you live and jot down those observations.
The New York Times recently selected four college application essays that stood out to them. Here, they discuss what made those essays stand out and why they worked. These particular essays are all about social class, money, and work, but they are effective because they write about their life in such a way that it, "help[s] us bring perspective to our own [lives]." While these essayists may have been strong writers to begin with, their essays are effective because they are extremely focused and detailed—they give prose-like descriptions about the environment in which they live.  Students often fall into the old writing trap of "telling" rather than "showing" what they are trying to say. Writing that "shows" something uses visual language, dialogue, and an internal monologue to guide the reader through a story, scenario, or period of time. This is easiest to do if you focus on writing on specific moments in time that epitomize what it is like being you. Because that, after all, is the whole point of a college application essay: to put someone else in your shoes for less than 700 words.
Once you have your topic picked and your content written, the most important (and most neglected step) must be taken: editing. An essay must be edited multiple times before you consider it to be final. In our College Readiness editing process, our students' essays go through two or three revisions before they are considered final. These revisions give students several advantages: they eliminate grammatical and spelling errors, they give the student the opportunity to expand on their ideas, and they get more than one set of eyes on the essay. Feedback from an objective party (not parents or the student) allows the student to receive insight about their own essay that may not have thought of otherwise. Whether it is regarding the structure, the amount of detail, or the language used in the essay, a third party editor can put students' essays at a great advantage, especially if that editor has read through multiple essays.
So, how do you conquer the college application essay? You start now! When you're writing your essays, don't put them off to the last minute .You're going to need more time to write and have them edited than you realize. If a student is working diligently on their revisions, an essay should be completed in 3 weeks. Like everything good in life—barbeque, pot roast, any fine meat, really—time often perfects the products on which we are working. So be patient, be detailed, revise, and start writing!