If you haven't noticed by now, Cram Crew employees love (atrocious) puns and corny jokes. It probably comes along with being nerds. Halloween presents us with the unique opportunity to express our groan-worthy puns and jokes visually.
A quick internet search reveals we are not alone in our quest for simple hilarity and we'd like to share our top picks for classic, corny Halloween costumes:
Deviled Egg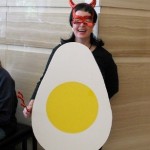 Difficulty Level: Easy
Requirements: White cardboard, yellow marker/highlighter, devil horns
Dixie Chicks
Difficulty Level: Easy
Requirements: Dixie brand disposable cups, string, safety pins, optional feathers
Instructions: Just pin the cups onto your clothes, ladies! Gentlemen, add feathers!
French KISS
Difficulty: Easy
Requirements: Beret, black and white face paint, horizontal stripe shirt, optional scarf
Dust Bunny
Difficulty: Easy
Requirements: Bunny ears, broom, cotton balls
Identity Thief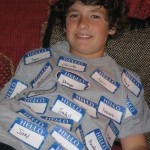 Difficulty: Ridiculously Easy
Requirements: Name tags, marker