by Madeline Sneed

As the November 1st deadline approaches, many of you students will start giving serious consideration to where you want to attend college. This is a decision that is not to be taken lightly, and no one can make this choice for you.
Today, though, I'd like to gently nudge you in the direction of Baylor University. Yes, the self-proclaimed "Jerusalem on the Brazos" is the largest Baptist university in the world, and it's recently gained notoriety thanks to HGTV and Chip and Joanna Gaines; however, there is much more to this university than meets the eye as one zooms down I-35. Here are my top three reasons to attend Baylor.
Traditions
Baylor is all about its traditions. Whether it's attending Line Camp and spending a weekend on campus for the first time as a freshman or attending the one millionth Dr. Pepper Hour as a senior, Baylor's traditions are longstanding and beloved. I'm going to highlight three of my favorites, but you can read about all of them here.
All-University Sing: Though it was prohibited by the Baylor administration to dance on campus until 1996, Baylor students have been participating in the production of Sing since the 1950s.Sing is a campus-wide competition in which 20 or more organizations participate in February. Groups choose a "theme" and create a seven minute, Broadway style musical act to creatively and completely tell a story that incorporates their chosen theme. The top 8 acts selected go to Pigskin Revue in the fall, which leads me to my next favorite tradition…
Baylor Homecoming: As the largest collegiate Homecoming celebration in the United States, Baylor never fails to welcome its alumni back to Waco in style. The weekend begins with a traditional bonfire on Friday night after which alumni can catch a late showing of Baylor's Pigskin Revue. On Saturday morning, students, families, and alumni gather on campus to watch the annual parade. It's basically Macy's Thanksgiving Day Parade with a lot more bears, green, and gold. Many of Baylor's student organizations work hard in the months preceding the parade to put together homecoming floats—and I can tell you from firsthand experience, an insane amount of work is put into these floats—which crawl through Waco toward campus for the parade. After the parade, families start to head to McLane Stadium to sailgate—which is just tailgating in a boat on the Brazos—to prepare for the Bears inevitable victory, bringing me to my final favorite tradition…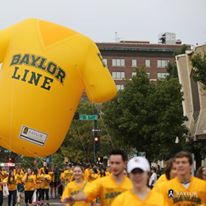 The Baylor Line: The Baylor Line was created in the 70s, and it is the most fun part about being a freshman at Baylor. The first twenty or so rows in McLane are reserved for the Baylor Line, so the freshmen get the best seats in the house. Before you start school, you're given a gold line jersey with the number of your graduation year and a nickname on the back. Before games, the Baylor Line congregates in front of the stadium in one large, golden mass of Baylor pride.Sic 'ems are started left and right, the roar from the crowd increases, and the Baylor Line, minutes before kickoff, charges onto the field, led by the university's president, to form a line to greet the players as they enter the field. Here's a video for reference.
Faculty to Student Ratio
Another wonderful component of Baylor University is the small faculty to student ratio. The actual number is 15:1, but, as an English major, my class sizes ranged from 6-12 students. Every professor I had at Baylor, whether they taught a course that was in my field of study or required as part of my degree plan, cared deeply about their students. The professors I had my freshman year—even in classes with as many as 200 students—made me feel welcome, secure, and confident in my classes. Office hours were posted at the beginning of the year, and every professor honored this commitment. I think highly of every professor I had at Baylor, but—and I'm showing extraordinary bias here—I think the English department has some of the best faculty on campus. The professors I learned from in my English classes inspired me. They got to know me as a student, a writer, and an individual; they pushed me to work harder, learn more, and think differently. It was a wonderful environment to learn in, and I believe I am more equipped for the workforce because of the professors I had at Baylor.
Waco, Texas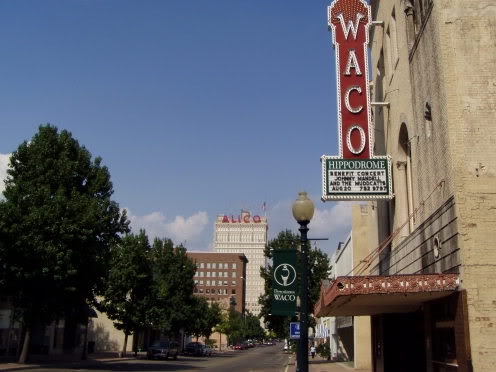 Waco is a city on the rise. There is no coffee in the world that will taste better to me than an Americano from Common Grounds or a strong cup of Dichotomy's rich house blend (give me a blueberry muffin with that, and I'm in heaven). The pizza pillows at Shorty's Pizza will change your life, and if you don't start your Sunday with a pancake from Café Cappuccino, you're doing something wrong. Okay, I realize this is all about food, but that's a very important component of any city to me. Besides the wonderful selection of local restaurants (I didn't even mention the outstanding food trucks), Waco has a small, college town vibe that makes you feel right at home.The people are nice, and if you're looking to plug into a church community, the congregations in Waco are ubiquitous. Cameron Park, the Brazos, and Lake Waco offer an escape into nature, and the Bear Trail is the perfect place to run a quick 5k on campus. Downtown is filled with cute shops, and, of course, the Magnolia Silos are worth a visit (but not on the weekends because tourists—that's right! We have tourists!). Waco's the type of city that grows on you the longer you live there—and, if you are dying to spend a weekend in the city, Dallas and Austin are only an hour and a half away!
There is so much more I could write about my second home, but I think I'll stop there before I bore the universe with my incessant ramblings on what I believe to be the greatest university ever. But, of course, that was my experience, my decision. At the end of the day, wherever you decide to go to school will shape your experience and who you will become. There's no wrong answer. College is going to be the best four years of your life, no matter where you go (but especially if you go to Baylor)!